Blocked Drains Sydney
Sydney's favorite and most reliable on-time plumbers… We repair all your blockages FAST, Guaranteed Same Day Service or it's FREE!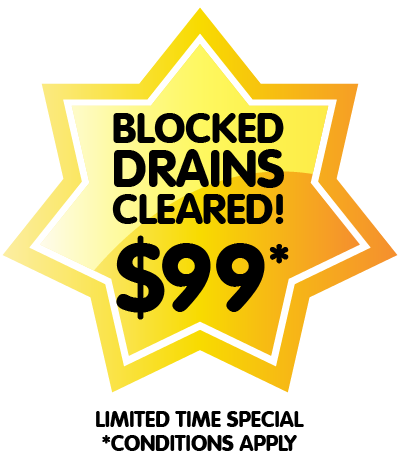 Your house has an extensive system of drainage pipes. The drainage system connects water and waste from your bathrooms, toilets and sinks to the city's main drainage system. If your drains are working as they should, you rarely have a reason to concern yourself with them.
However, drains are prone to clogs. In fact, clogs are almost unavoidable regardless of the expertise that was first employed when installing the
system or how carefully you try to treat your sinks. Some of the common issues that may cause clogs in the drains include stuck napkins, totally collapsed drains, misaligned drains, excessive paper waste, fats and grease.
Professional plumbers use a set of sophisticated tools to assess and repair the clogs on drainage systems. Hydro jet cleaning, one of the drain unclogging technologies, makes use of high-pressure water to clear the debris from drains while simultaneously scouring them.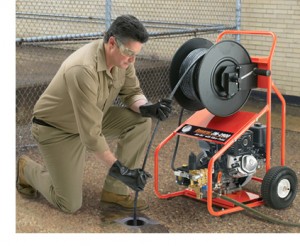 If the clogging is persistent, you may require a CCTV inspection of the pipeline. The CCTV reports are available in full colour DVD and photographs. The reports helps the plumbers recommend other solutions, which may include relining the drainage pipes.
Keep Your Family Safe
Blocked drains pose a serious health hazard to you and your family. The drains, especially shower and toilet drains, are a fertile breeding grounds for bacteria. Trying to personally fix them may aid the spread of disease-causing bacteria. If you notice problems with your drains, call our professional plumbers to come take a look. Our staff remain on stand-by 24 hours, 7 days a week, and our rates for fixing blocked drains are among the best in Sydney.
The Importance of a Healthy Drainage System in Sydney
Your home's drainage system plays a crucial role in keeping your living space clean and safe. It connects the water and waste from bathrooms, toilets, and sinks to the city's main drainage system. While a well-installed system can function flawlessly, clogs are inevitable. Common culprits include stuck napkins, excessive paper waste, fats, grease, and misaligned or collapsed drains.
Advanced Solutions for Stubborn Clogs
At Graham and Sons, our skilled plumbers utilize cutting-edge tools and technology to diagnose and repair drain blockages effectively. Our hydro jet cleaning method uses high-pressure water to dislodge debris and thoroughly scour the pipes, leaving them clean and clear.
For persistent clogs, our CCTV inspection service offers a comprehensive view of the pipeline. The detailed reports, available in full-color DVD and photographs, allow our plumbers to recommend appropriate solutions, such as drain relining.
Protect Your Family's Health
Blocked drains pose serious health hazards, particularly in shower and toilet areas where harmful bacteria thrive. Attempting to fix these issues on your own may inadvertently spread disease-causing bacteria. To safeguard your family's well-being, it's crucial to seek professional assistance when you encounter drain problems.
Your Reliable 24/7 Drain Plumbers
When you notice a clogged drain that your plunger can't handle, don't hesitate to contact Graham and Sons. We offer the most pocket-friendly rates for residential and commercial drain blockage repairs, and our team is available round-the-clock to address your emergencies.
Why Choose Graham and Sons for your blocked drains in Sydney?
We take immense pride in being Sydney's leading drain plumbers for good reasons. Our unmatched reliability and high standards ensure top-quality service for every customer. Our skilled technicians assess the issue using state-of-the-art tools and provide precise solutions. Utilizing high-pressure water jets, we clear blocked drainages in various areas of your home, including the laundry room, bathroom, and kitchen, leaving them as good as new.
What We Love About Fixing Blocked Drains in Sydney
At Graham and Sons, fixing blocked drains in Sydney is not just a job; it's our passion. We take great pride in providing efficient and reliable solutions to our valued customers. Our team of skilled plumbers is dedicated to restoring the smooth flow of water and waste in your drainage system, ensuring your home remains clean and hygienic. Witnessing the satisfaction on our customers' faces when we resolve their drain issues is what truly drives us. We love being the go-to plumbing service in Sydney, always ready to tackle any drain blockage with professionalism and a smile.
How Much to Clear a Blocked Drain in Sydney
Wondering about the cost of clearing a blocked drain in Sydney? At Graham and Sons, we understand that transparency and fair pricing are crucial for our customers. The cost of clearing a blocked drain can vary depending on the severity of the clog and the specific services required. Our services start at $99 for this service.
We offer competitive and pocket-friendly rates for both residential and commercial drain blockage repairs. Contact us today at 02 9199 7430 or via email at [email protected] for a free quote and let us provide you with a precise estimate to get your drains flowing smoothly again.
Signs of a Blocked Drain in Sydney
Identifying a blocked drain early can save you from potential headaches and costly repairs. Look out for these common signs of a blocked drain in Sydney:
Slow draining sinks, bathtubs, or showers.
Unpleasant odours emanating from drains.
Gurgling sounds coming from the plumbing fixtures.
Water pooling around sinks, toilets, or floor drains.
Overflowing or backing up of water in multiple plumbing fixtures.
If you notice any of these signs, don't delay; call Graham and Sons for prompt and professional drain inspection and repair services.
Trying to Unblock the Drain Yourself
While it may be tempting to tackle a blocked drain on your own, DIY methods can often worsen the situation. Store-bought drain cleaners might provide temporary relief, but they can also damage your pipes and harm the environment. Additionally, using makeshift tools can lead to pipe damage or injury. To ensure a safe and effective resolution, it's best to leave drain unblocking to our expert plumbers at Graham and Sons. With our advanced tools and expertise, we can efficiently clear even the most stubborn clogs without causing harm to your plumbing system.
Common Causes of Blocked Drains in Sydney
Blocked drains can be caused by various factors. Some of the most common culprits include:
Accumulation of hair and soap scum in bathroom drains.
Flushing non-flushable items like wet wipes, tissues, or cotton balls down the toilet.
Pouring cooking fats, oils, and grease down the kitchen sink.
Build-up of food debris and residues in kitchen drains.
Tree root intrusion into underground drainage pipes.
Understanding the root cause of the blockage helps our plumbers devise the most effective solutions for a long-lasting fix.
Practical Solutions for Blocked Drains in Sydney
At Graham and Sons, we employ a range of practical and efficient solutions to clear blocked drains in Sydney:
Hydro jet cleaning: High-pressure water jets to dislodge debris and clean the pipes thoroughly.
CCTV inspection: Advanced camera technology to identify blockage locations and assess the condition of the pipes.
Drain relining: Non-invasive method to repair damaged pipes without excavation.
Professional snaking: Using augers and drain snakes to break up and remove stubborn clogs.
Preventing Blocked Drains in Sydney and Tips
Prevention is always better than dealing with a blocked drain. Here are some tips to keep your drains clear and flowing smoothly:
Use drain guards to catch hair and debris in bathroom drains.
Avoid flushing non-biodegradable items down the toilet.
Dispose of cooking oils and grease in the trash, not the sink.
Regularly pour boiling water down drains to flush away build-up.
Consider periodic professional drain cleaning to prevent clogs.
By following these simple tips, you can maintain a healthy and trouble-free drainage system.
At Graham and Sons, we are committed to providing top-quality drain unblocking services and ensuring your home's plumbing functions flawlessly. Contact us today to experience our reliable and efficient solutions for all your drainage needs.
Contact Graham and Sons for your Blocked Drains in Sydney
If you happen to notice a clogged drain in your house and your plunger won't unclog it, it is time to call Graham and Sons. Don't postpone it because you are worried about the price of unclogging it. We have the most pocket-friendly costs for both residential and commercial drain blockage repairs, and our servicemen are available around the clock.
Graham and Sons is the leading drain plumbers in Sydney, and for a good reason too. No other plumbing company measures up to our reliability and high standards. What's more, we are available 24-7 to take care of your emergency drain problems.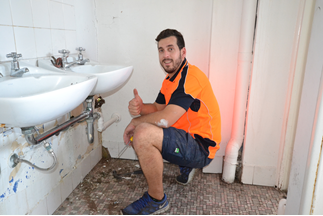 We clear blocked drainages in the entire house including laundry room, bathroom, and kitchen. Unlike other conventional plumbers in Sydney, we use a set of hi-tech tools to assess the extent of the damage and come up with precise solutions for the problem. We will then employ high pressure water jets to clear the drains, leaving them as good as new!
If you are looking for reliable Sydney plumbers to unblock your drain, look no further.
Our Contacts:
Telephone: 02 9199 7430
Email: [email protected]
Reasons to Choose Graham & Sons Qualified Plumbers:
Blocked drains cleared from $99*!
Qualified, licensed & insured
On Call 24 hours 7 days
Upfront Pricing – NO hidden costs
100% Labour Guarantee!
Enquire Now for Fast Response