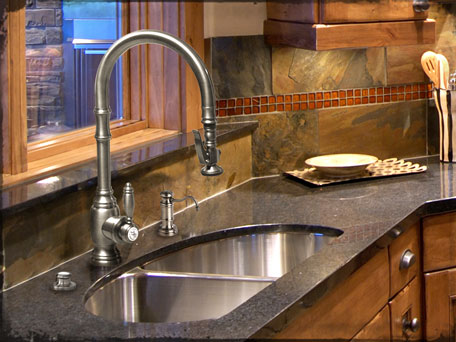 Are you thinking of giving your kitchen a facelift? Don't forget about the plumbing. It is an integral part of your kitchen. You need to find plumbers who not only provide functional kitchen plumbing but also ensures that the plumbing compliments your entire kitchen décor and furnishings.
Plumbing components in the kitchen usually consist of three main things: fresh water pipes, appliances, and a drainage system.
Fresh water pipes are the pipes coming from the city's main water supply. They get into your house through the mainline, and will often make the first branch at the water heater. The mainline is consistently under high pressure, and thus needs to be made from materials that can withstand the pressure.
Fixtures are the components in your kitchen that use the fresh water. They include dishwashers, faucets and taps. When installing fixtures, it is important the plumber adheres to regulations sets by the relevant board.
The drain system consist of everything going from kitchen fixtures and appliances to the sewer.
Problems with the Kitchen Plumbing?
Faulty kitchen plumbing is one of the most challenging problems you have to deal with at home. Unfortunately, plumbing problems in the kitchen are quite common. They range from leaking taps, clogged drains, or gurgling sinks. If left unrepaired, the plumbing issues become quite an annoyance, not to mention the health hazard that they pose.
While you can easily fix some of the problems, others are quite complicated and require the attention of a professional plumber. This is where Graham and Sons comes in. We are professional plumbers with extensive experience in fixing all aspects of kitchen plumbing.
Graham and Sons provide 24 hours plumbing services in Sydney and surrounding areas. Call us for all your kitchen plumbing needs including:
Dishwasher installations Sydney
Fridge plumbing Sydney
Fixing dripping kitchen taps
Clogged sinks and drains
Installation of water coolers and filters
Faulty kitchen faucets
Among other kitchen plumbing repairs
Emergency Kitchen Plumbing Sydney
Don't let a faulty sink or kitchen drain be the reason for your anguish. We understand the urgency with which you may want to install some kitchen plumbing or fix broken ones. You can count on us to respond to your needs with utter urgency, usually within the same day. We have a 24-7 standby team ready for deployment the moment you call us.