The Ultimate Guide to Dishwasher Installation: Costs, Tips, and How to Save
Did you know that a dishwasher can save you up to 230 hours a year? That's almost 10 full days you could use for something else! In this comprehensive guide, we will explore why installing a dishwasher is a smart choice, the true costs involved, and how to navigate those costs wisely.
Why Installing a Dishwasher is a Smart Choice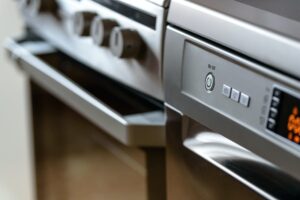 Choosing to invest in a dishwasher is about more than just alleviating the monotony of dishwashing; it's a decision that impacts multiple aspects of your life and even contributes to sustainability. Let's dive deeper into these benefits:
Time-Saving Benefits: Get Your Time Back
The Lost Hours
Time is our most precious resource, and manual dishwashing takes a chunk out of it. Imagine you spend an average of one hour a day hand-washing dishes. That's seven hours a week or nearly 365 hours in a year. Translated into days, you're looking at 15 full days a year that you could be spending on something far more fulfilling!
Time-Management and Efficiency
Dishwashers can complete a full cycle in about 2 hours, and some have quick-wash settings that cut this time in half. Best of all? You don't have to be involved in the process. Load the dishwasher, set it, and forget it. Use this time to tackle other tasks, catch up on your favourite shows, or enjoy some quality moments with loved ones.
Opportunity Costs
Think about the other things you could do with the time saved. Whether it's working on a passion project, exercising, or even advancing your career, the time saved creates many other opportunities for personal growth and happiness.
Eco-Friendliness: A Greener Option
Water Conservation
Contrary to popular belief, washing dishes by hand is far less efficient in terms of water usage. The Environmental Protection Agency (EPA) suggests that effective dishwashers use as little as 3 gallons per load, whereas hand washing dishes can use up to 27 gallons!
Energy Savings
Modern dishwashers come with various eco-friendly settings that minimise water and electricity consumption. Many of them are ENERGY STAR certified, meaning they meet or exceed federal guidelines for efficiency. This is not just good for the Earth; it's also good for your utility bills.
Reduced Detergent Usage
Automated dishwashers optimise detergent use, meaning you won't overuse or waste detergent, which is not only cost-effective but also better for aquatic life when wastewater is treated and released into bodies of water.
Quality of Life: More than Just Clean Dishes
The Emotional Toll of Chores
Let's be honest, facing a mountain of dirty dishes after a long day or a hearty family dinner can be draining. It's a task most people dread and often leads to stress and family arguments over whose turn it is to do the dishes.
More Family Time
When you cut down on the time spent doing chores, you create room for more quality time with your family. This can be particularly beneficial for parents who can use this time to engage in activities with their children, strengthening family bonds.
Boost Mental Health
Freeing yourself from the drudgery of constant, tedious chores like dishwashing can have a positive impact on your mental well-being. You'll feel less overwhelmed, more in control, and will have more time to engage in activities that bring you joy and relaxation.
The True Cost of Owning a Dishwasher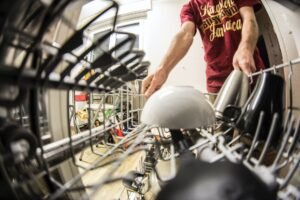 Investing in a dishwasher involves more than just the initial price of the appliance. There are multiple financial dimensions to consider, from upfront costs to long-term expenses. Let's unpack each of these to give you a comprehensive understanding of what owning a dishwasher really costs.
Upfront Cost of the Dishwasher: An Investment in Convenience
Pricing Spectrum
Dishwashers come in a variety of models, each with its own set of features and corresponding price tags. Basic models can start at a modest around $536 AUD, while high-end luxury models boasting advanced features can go up to $3,350 AUD or even more.
Budgeting Tips
It's crucial to align your needs with your budget. Make a list of features that are non-negotiable for you. For example, if energy efficiency is a priority, you may need to allocate a slightly higher budget to ensure your dishwasher is ENERGY STAR certified.
Financing Options
Many retailers offer financing plans that allow you to pay for your dishwasher in instalments. This could make it easier to invest in a more expensive model that offers long-term benefits like durability and efficiency.
Installation Cost: A Variable Expense
Average Cost Range
The cost of professional installation generally falls between $201 AUD to $603 AUD. The variance depends on several factors, such as the complexity of the installation, and whether new plumbing or electrical work is required.
DIY vs. Professional
While some individuals opt for DIY installation, hiring a qualified installer ensures your dishwasher is set up correctly and safely. Incorrect installation could void your warranty and lead to costly repairs down the line.
Long-Term Running Costs: The Energy and Water Factor
Utility Bills
While dishwashers do add to your utility bills, the impact is often minimal, particularly if you opt for an energy-efficient model. The average energy-efficient dishwasher uses less than 5.5 gallons of water per cycle and costs around $47 AUD per year to run.
Eco-Friendly Cycles
Many modern dishwashers come equipped with eco-friendly cycles that minimise water and electricity usage. You can save further by running your dishwasher during off-peak hours if your local utility company offers lower rates during these periods.
Maintenance and Warranty: The Overlooked Aspects
Regular Upkeep
Like any appliance, dishwashers require regular maintenance to ensure they operate efficiently. This can include tasks like cleaning the filter, checking the spinning arms, and occasionally running a cleaning cycle. The costs are minimal but essential for longevity.
Warranty and Extended Plans
A standard warranty will typically cover parts and labour for one year. However, extended warranties are available and can offer peace of mind for an additional cost. When considering an extended warranty, weigh the cost against the benefits, like coverage of expensive components for additional years.
What Factors Affect Installation Costs?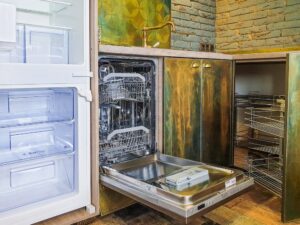 Choosing to install a dishwasher in your home involves various costs, some of which can be anticipated and others that might only reveal themselves as you dive into the process. Here's a deeper look at the key factors that can affect the cost of installing a dishwasher:
Complexity of the Setup: From Simple to Intricate Installations
Existing Infrastructure
For homes with existing hookups for water supply, drainage, and electrical connections, the cost of installation could range between $80 AUD and $161 AUD. Having these hookups in place eliminates the need for new plumbing and electrical work, hence keeping the costs low.
Special Requirements
On the other hand, if your home doesn't have pre-existing hookups, the installation can get complex. You may need to add new plumbing lines, electrical circuits, or even drill holes in your counter or cabinetry. In such cases, the costs can rise to around $268 AUD or more.
Material of Dishwasher: The Stainless Steel Advantage
Durability and Cost
Dishwashers with stainless steel interiors are highly durable, quieter during operation, and offer better drying capabilities compared to plastic interiors. However, the material also affects the cost, not just of the dishwasher but potentially of the installation too, especially if special fixtures or fittings are required.
Aesthetic Consideration
Another aspect to consider is the exterior finish. Choices like brushed stainless steel, matte finishes, or even custom panels to match your cabinetry could also affect the installation costs due to different handling and attachment requirements.
Additional Services: Customization and Adaptations
Cabinetry Adjustments
If your kitchen cabinets require modification to accommodate your new dishwasher, this will add to your costs. These changes can range from minor trimming to extensive redesign, with costs ranging from $80 AUD to $201 AUD per hour, based on the complexity.
Water Softeners and Filters
In areas with hard water, you might consider installing a water softener or filter system. This will increase your installation costs but can be a wise long-term investment to extend the lifespan of your dishwasher.
Importance of Choosing a Qualified Installer: Don't Skimp on Expertise
Quality Assurance
When contracting an installer, it's vital to choose someone certified and experienced. A qualified professional will adhere to all local and national building codes, ensuring the installation is up to standard, thus avoiding any legal issues or voiding your warranty.
Risks of DIY or Unqualified Installation
While the idea of saving a few bucks with a DIY installation might be tempting, a poorly executed installation can lead to a myriad of problems, including water leaks, electrical issues, and even voiding your manufacturer's warranty. The risks outweigh the benefits, and it's advisable to allocate a portion of your budget for a professional installation.
Dishwasher Buying Guide: Making Informed Choices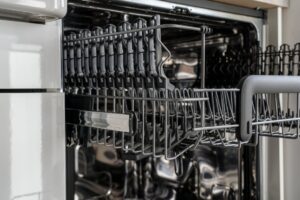 Buying a dishwasher isn't a one-size-fits-all situation. From understanding your specific needs to comparing the benefits of different materials and features, the decision-making process can be complex. Here is an in-depth guide to help you navigate through these choices:
Features at Different Price Points: What You Get for Your Money
Budget Range ($534 AUD–$804 AUD): The Essentials
Dishwashers in this range generally offer basic functionalities such as multiple wash cycles, a food disposer, and perhaps a sanitization option. These models may have a plastic tub and may be slightly louder during operation. If you're looking for a machine to get the job done without any frills, this could be the range to consider.
Mid-Range ($804 AUD–$1,340 AUD): Value-Added Features
When you go up a notch in terms of price, you'll notice added features that make the user experience much better. These might include options like a delayed start, additional spray arms for more effective cleaning, or even specialised cycles for items like stemware or baby bottles. The interiors are often made of higher-quality materials, possibly including stainless steel, which adds to the machine's longevity.
Luxury Range ($1,340 AUD+): Smart and Sophisticated
These top-tier models come equipped with advanced technology, such as Wi-Fi and smartphone synchronisation, soil sensors that can adjust the wash cycle in real-time, and ultra-quiet operation. Some might even include interior lighting, a third rack for added loading capacity, or specialised zones that let you wash pots and delicate glasses in the same load.
Cost vs. Quality: Striking the Right Balance
Longevity Matters
While the initial cost of a budget dishwasher may be appealing, it's essential to consider the long-term value. More expensive models not only come with enhanced features but are also often more durable. Think about it as an investment; spending a bit more now can save you from early replacement costs later.
Feature Relevance
However, the most expensive option isn't always the best for you. Make a list of features that are non-negotiable based on your specific needs, and aim to find a dishwasher that satisfies these within your budget.
Stainless Steel vs. Plastic Interiors: The Battle of Durability and Efficiency
The Stainless Steel Advantage
Stainless steel interiors are generally considered superior due to their durability, noise reduction capabilities, and better drying performance. They can withstand higher temperatures, allowing for more effective sanitation. Additionally, stainless steel is less likely to stain or retain odours.
The Economics of Plastic
On the other hand, plastic tubs are generally cheaper but less durable. Over time, they are more susceptible to staining and might not offer the same level of insulation, leading to a slightly noisier operation.
Energy Efficiency
Modern stainless-steel models also tend to be more energy-efficient, aligning with eco-friendly living principles. While the initial cost might be higher, you could find yourself saving money in the long run due to reduced electricity and water usage.
Case Study: How Jane Transformed Her Kitchen Routine with a Smart Dishwasher Investment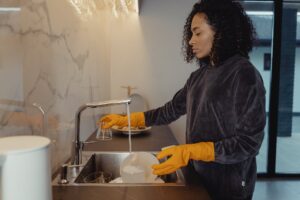 When it comes to making substantial household purchases, real-life experiences can offer invaluable insights. Meet Jane, a busy mother of two, juggling work, parenting, and the myriad chores that come with maintaining a home. Exhausted from the constant cycle of cooking, eating, and then hand-washing dishes, Jane finally decided to invest in a dishwasher. Let's delve into how this one decision profoundly impacted her life in terms of time, money, and overall well-being.
Jane's Initial Reservations
Like many, Jane had her reservations about investing in a dishwasher. Between the upfront cost and installation fees, the initial investment seemed daunting. She was also sceptical about the actual benefits—would the machine genuinely save her time and reduce her monthly expenses?
The Decision: Opting for a Mid-Range Model
After conducting extensive research, Jane decided to settle on a mid-range dishwasher priced at around $930 AUD. This machine offered an excellent compromise between cost and features, providing extra spray arms, multiple wash cycles, and a stainless steel interior.
Time-Saving: Reclaiming Her Evenings and Weekends
Post-installation, Jane quickly noticed a significant shift in her daily routine. Manually washing dishes had previously taken her up to 10 hours a week—a considerable amount of time she could now spend with her children or devote to her hobbies. She found herself more relaxed, less stressed, and even had time to join a local book club.
Financial Impact: A Drop in Monthly Expenditure
Within a month of using the dishwasher, Jane noticed a 15% reduction in her water bill. The machine's energy-efficient cycles optimised water usage, and the soil sensors adjusted the amount of water needed, thereby saving resources. Additionally, the heat from the dishwasher's efficient drying cycle eliminated the need to use kitchen towels, saving both laundry time and costs.
The Butterfly Effect: Quality of Life Improvements
The ripple effects of this one investment were astounding. Not only did Jane save time and money, but the overall quality of her life also improved. Family meals were more relaxed, knowing that the aftermath would not involve laborious washing. Even the children chipped in to load the dishwasher, turning a once-dreaded chore into a quick and easy task.
Long-Term Benefits: Less Is More
Jane found that spending slightly more upfront for a quality appliance had longer-term benefits. Given its stainless steel interior and energy-efficient features, the dishwasher is expected to last longer with minimal maintenance costs. Plus, she calculated that the time saved afforded her the luxury to take on freelance projects, effectively paying off the cost of the dishwasher within a few months.
Final Takeaway: An Investment in Well-Being
Jane's experience illustrates the profound impact a well-chosen dishwasher can have on your quality of life. It's not just about clean dishes; it's about reclaiming your time, lowering your monthly bills, and contributing to a happier, more balanced lifestyle.
A Comprehensive Cost Breakdown (Infographic)
[Insert Infographic Here to Visualise the Cost Components]
Breaking down the cost of dishwasher installation helps demystify the process and enables you to budget more accurately. While the infographic above provides a quick visual guide, let's delve deeper into each cost component to understand what you're paying for and how you might save money.
Plumbing Costs: $65–$325 AUD/hour
The plumbing component is crucial in any dishwasher installation. A professional plumber will need to connect your dishwasher to the existing water supply and drainage system. Sometimes, this may require new drain lines or even rerouting the old ones.
Factors That Influence Plumbing Costs:
Distance from Water Supply and Drain

: The further the distance, the higher the cost due to extra materials and labour.

Complexity of Plumbing Network

: A more complicated network may require specialised skills and take longer to set up.
Wiring Costs: $195–$260 AUD/hour
Electrical work is another important part of the installation process. You'll need to have an electrical outlet near the dishwasher, and sometimes, a dedicated circuit might be necessary to handle the dishwasher's electrical load.
Factors That Influence Wiring Costs:
Outlet Availability

: If an electrical outlet isn't readily available near the dishwasher's location, the cost will go up.

Local Electrical Codes

: Codes may require safety additions like a ground-fault circuit interrupter (GFCI), affecting the cost.
Cabinetry Costs: $78–$195 AUD/hour
If your kitchen isn't already configured for a dishwasher, or if you are looking for a customised look, you might need to adjust or install new cabinetry. This can involve cutting into existing cabinets or even redesigning a section of your kitchen cabinetry to accommodate the dishwasher.
Factors That Influence Cabinetry Costs:
Material of Cabinets

: High-end materials like hardwoods will be costlier to cut or modify.

Level of Customization

: Custom-built cabinetry solutions will add significantly to your overall costs.
Tips for Cost Savings:
Bundled Services

: Sometimes professionals offer package deals for plumbing, wiring, and cabinetry, which can save you money.

Off-Peak Discounts

: Some service providers offer lower rates during their off-peak seasons.

DIY Minor Tasks

: For handy homeowners, doing small tasks like clearing the installation area can save on labour costs.
How to Find the Right Installer Near You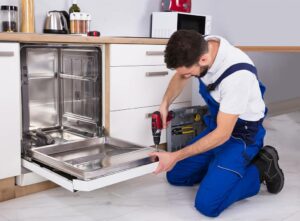 Selecting the right installer is pivotal for a hassle-free and efficient dishwasher installation. It's not just about the initial setup; a qualified installer ensures the longevity and optimal functioning of your appliance. Let's break down how to go about finding the right professional for the job.
Research Local Companies: Check Reviews and Ratings
Begin your search by identifying local companies or independent contractors who specialise in appliance installations. In today's digital world, online reviews can provide a treasure trove of information. Websites like Google Reviews, Yelp, or specialised home service platforms can offer insights into customer satisfaction, quality of work, and reliability.
Pro Tip:
Ask for References: Reputable companies will have no problem providing references from satisfied customers. Don't hesitate to make a few calls to verify their claims.
Compare Quotes: Get At Least Three Quotes for an Apples-to-Apples Comparison
Price shouldn't be your only consideration, but it's certainly an important factor. Obtain at least three detailed quotes to understand the scope of work and associated costs. Ensure these quotes are itemised, breaking down costs for labour, materials, and any additional services. This enables you to make a true "apples-to-apples" comparison and understand exactly what you're getting for your money.
Pro Tip:
Negotiate: If one company offers a particular service as part of the package and another doesn't, ask if they would be willing to match the more comprehensive offer.
Certifications: Always Confirm Their Qualifications
Ensure the professional you're considering has the necessary certifications and licenses to operate in your jurisdiction. Dishwasher installation involves electrical and plumbing work, so you'll want someone qualified in these areas. In some regions, operating without proper certifications can be illegal and can also void your appliance's warranty.
Pro Tip:
Check Insurance: Always verify that the installer has liability insurance. In the unfortunate event of an accident or damage to your property, this will protect you from incurring additional costs.
Additional Points to Consider:
Experience with Your Dishwasher Model

: Some dishwashers have specific installation requirements. Confirm that the installer has experience with your particular model.

Turnaround Time

: Inquire about the estimated time for completion. A professional with a long backlog might not suit you if you're looking to get the installation done quickly.

Warranty on Installation

: Some professionals offer a warranty on their installation services. This could save you money in the long run if adjustments or repairs are needed.
Dishing Out Answers: Your Top 10 FAQs on Dishwasher Installation, Served Hot!
How much does it cost to install a dishwasher?
The cost to install a dishwasher can range from $150 to $450, depending on various factors like the complexity of the setup and whether you have pre-existing hookups.
Is it better to hand wash dishes or use a dishwasher?
Using a dishwasher is generally more time-efficient and eco-friendly than hand-washing dishes, as it can use up to five times less water.
Can I install a dishwasher myself?
While it's possible to install a dishwasher yourself, it's recommended to hire a certified and experienced installer to ensure a smooth and efficient setup.
What are the long-term running costs of a dishwasher?
The long-term running costs of a dishwasher are relatively minimal, especially if you opt for an energy-efficient model.
Do I need to have existing plumbing and electrical hookups for dishwasher installation?
Having existing plumbing and electrical hookups can significantly reduce the installation cost, but it's not essential. Installation without existing hookups will cost more.
What features should I look for when buying a dishwasher?
When buying a dishwasher, consider features like wash cycles, delayed start, and energy efficiency. Your needs and budget will dictate which features are most important.
How long does it take to install a dishwasher?
The time it takes to install a dishwasher can vary, but a typical installation by a professional can be completed in a few hours.
Is it worth getting a dishwasher with a stainless steel interior?
A dishwasher with a stainless steel interior is generally more durable, energy-efficient, and quieter during operation, making it worth the extra cost.
What kind of maintenance does a dishwasher require?
Dishwashers typically require minimal maintenance, such as occasional cleaning and descaling. Always refer to the user manual for specific maintenance guidelines.
How can I find a reliable dishwasher installer near me?
To find a reliable dishwasher installer near you, research local companies online, check reviews and ratings, and compare at least three quotes to make an informed decision.
Conclusion: Dishwashers—A Worthy Investment for a Better Life
Investing in a dishwasher is more than just a simple kitchen upgrade; it's a lifestyle change that pays dividends in multiple ways. It's not only a time-saver, giving you back hours that you can spend with loved ones or on hobbies, but it's also an eco-friendly choice that's better for the planet.
Before diving into this purchase, however, it's imperative to have a comprehensive understanding of the costs involved. The initial outlay includes the upfront cost of the dishwasher itself, which can vary depending on the model and features you opt for. Installation costs are another vital consideration, influenced by factors like your home's existing setup and the quality of materials in your chosen unit. Don't forget the long-term running costs—while modern, energy-efficient models will keep this relatively low, it's still an ongoing commitment.
Additionally, make sure to account for periodic maintenance expenses to keep your dishwasher in optimal working condition. The good news is that many reputable brands offer extended warranties, which can provide peace of mind and financial protection in the long run.
Finding a qualified, certified dishwasher installer is the final step towards enjoying a more streamlined, hassle-free lifestyle. A professional can guide you through the nuances of the installation process, making sure you understand every fee and are fully satisfied with the setup. They'll also ensure that your new dishwasher runs efficiently, safeguarding your investment for years to come.
So, are you ready to upgrade your quality of life? Don't put off this valuable investment any longer. Contact us for your local dishwasher installation professional today for a free, no-obligation quote, and step into a cleaner, more efficient future.
Tap into a world of convenience and efficiency—reach out for a dishwasher installation quote now!