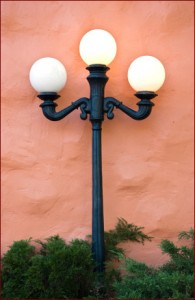 When it comes to lighting for your home security, it's vital that you consider outdoor lighting options in addition to lighting the inside of your home.   Research shows that outdoor lighting plays a large part in the safety and security of properties.
The installation of exterior lighting allows you to monitor what's happening outside your home.  If you happen to see sudden movements, or hear an unsettling noise, you can immediately investigate it with a well-lit outdoor area.  With insufficient outdoor lighting, you may be left to worry and wonder, or even worse, you could be left exposed to unwanted intruders.
You needn't worry about installing elaborate or extensive outdoor lighting.  Some strategically placed and simple lights can work very effectively in safe guarding your home. And it doesn't have to cost the Earth.
At Graham and Sons, we provide you with specialist advice on what security lighting would suit the size and layout of your property, in order to give you the best security possible for your budget.
To speak to one of our friendly team members, call us on 1300 205 523 or simply click to submit an enquiry.
Outdoor Motion Sensors: An economical solution
Outdoor motion sensors are a widely adopted solution for optimising outdoor home security. These sensors are activated by the emergence of body heat or movement and they can be programmed to switch back off after a short amount of time.
Because the sensors are only activated for short periods of time, they are an extremely economical option that won't send your power bill soaring.
Aside from the security aspects, outdoor motion sensors prove practical and convenient for day-to-day life.  Imagine being welcomed at the door step by a light that makes it easy to find your door keys. The convenience of light on-demand will make it easy to throw out the rubbish, greet visitors, let the dog out and many other outdoor activities.
As with most things, there is always a down side that should be considered.  Although motion sensor lighting is a sound economical investment, there is one drawback to this lighting solution.  As motion sensors are activated by movement, they could be activated by gale winds or other severe weather conditions.  As you are very easily able to check on the reason for the sensor triggering, most believe that the benefits of motion sensors far out-weight this negative.
Seek The Right Advice
Before making any decisions on which lighting to choose for your home security, it's vital that you see advice from a lighting expert.
At Graham and Sons, we have saved money for hundreds of residents across Sydney by providing advice on the most effective and economical security lighting to install.  Our customers can rest peacefully knowing that their security has been installed by a reliable, professional plumber.
Looking for a fully qualified and certified plumber to help make your home secure? Call us on 1300 205 523 or simply click to Submit an enquiry.
.