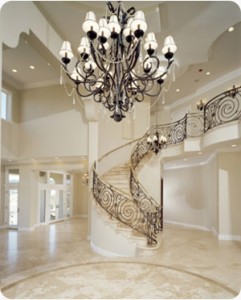 Chandelier Installation, Repair and Removal
Are you looking to add a touch of elegance to your home? Does your lighting lack lustre? Chandelier lighting can transform a drab and dull room so that it lights up with elegance!
Chandeliers are much heavier than standard forms of lighting.  If not handled carefully, they can be easily damaged, or even worse – they can cause injury should they become loose. You should also consider the weight of your new chandelier.  The wiring connections must be secured and the support system in the ceiling must be strong enough to accommodate the weight of your new chandelier. eg, Hooks and Centenary wire
It is extremely important that your chandelier is installed by a reliable and trained expert. Need some advice?  Call us now on 1300 205 523 or Submit an enquiry.
The Graham and Sons Guarantee 
At Graham and Sons, we take great care with the work we do.  Each and every one of our friendly plumbers is highly trained to look after your chandeliers and ensure they are fitted with the greatest attention and expertise.
Whether you are looking to install an intricate crystal chandelier or a simple pendant, your lighting is in safe hands with Graham and Sons.
Chandelier Services and Installation
Our Chandelier services include:
Chandelier fitting installation
Chandelier repair
Chandelier removal
Changing chandelier light bulbs
Repairing faulty ceiling mount fixtures
Raising or lowering existing ceiling mount fixtures
We have helped hundreds of customers across Sydney transform the normal into the extraordinary.  Why not join them?
To arrange your free quote call us on 1300 205 523 or Submit an enquiry.