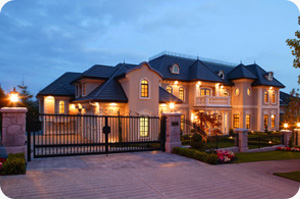 Outdoor Security Lighting Installation
Is your home or business a haven for unwanted guests? Outdoor Security lighting is proven to be one of the most effective methods of deterring criminals.  Statistics show that well-lit properties are less likely to attract crime because it exposes the criminal to being seen by others.
Effective lighting around your property is also an effective way of highlighting any unusual activity taking place outside, so that you can alert emergency services as soon as you feel under threat.
The Graham and Sons Guarantee
At Graham and Sons, we guarantee you only the most qualified and trained plumber at your door. Whether you are looking to safeguard your home or business with outdoor security lighting, one of our friendly team will be with you promptly.
We believe in making you feel safe and secure.  That's why we tailor-make your outdoor security lighting, so that it suits your property – because every property is different.  We also offer a full-service turn-key program, so that you can skip the hassle!
To arrange your free quote call us on 1300 205 523 or Submit an enquiry.
Which Light is Right?
Choosing the right outdoor security lighting can be confusing.  That's where we come in. We will advise you on the best lighting solutions, so that you can sleep easy knowing you are not in the dark.  There are several types of outdoor lighting, each come in different styles and designs:
Exterior Walls

–

Exterior Wall Lighting is effective in producing light at doorways and along the sides of buildings, so that criminals have no easy place to hide. Exterior wall fixture lighting can be as small as a front door lantern, or powerful enough to illuminate the full wall of a factory
 

Lamp Posts –

Lamp Post lighting is used on lamp posts to illuminate large areas and in some cases, provide added decoration.

Landscape –

Landscape Lighting is used most commonly to illuminate walkways, accentuate garden features, entertaining areas or to provide lighting to any spot that might be visited during darkness. Landscape lighting can provide added elegance to outdoor areas, in addition to security.  There are many options for landscape lighting – from dainty spotlights near sidewalks, flagpoles and fountains – right through to deck, patio, pool and gazebo lighting.
 To arrange your free quote call us on 1300 205 523 or Submit an enquiry.